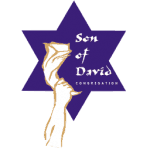 This week's message was less of a message and more of a plee for prayer. There is a lot of anti-semitism in the world right now and we need to be in prayer for the safety of all people. Dennis gave some highlights from a local meeting of Jewish leaders talking about safety in Montgomery county.
Whether you listen to the message or not, we ask that you pray for safety at this time. There is unrest in the world and that often leads to violence.
The message this week is shortened because there was a time for congregants to speak on the mic. For the sake of privacy we have not included that portion of the day.
Listen to the last message
Son of David Congregation requests that you prayerfully consider to continue supporting us as you are able during this time. Click the Tzedakah box to be taken to our support page or you can send in a check to our office.
19100 Muncaster Rd,
Derwood, MD 20855, USA