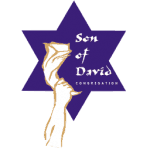 Have you ever presented your body as a living sacrifice? Will you present your body as a living sacrifice? Are you seeking, by God's grace, to take the necessary steps to allow God to renew your mind?
Will you allow God to renew your mind? And take a moment for reflection.
Maybe this afternoon, look back over Romans 12:1-2.
Rehearse the motivation for giving yourself to God as a living sacrifice. Maybe you can ask yourself: what are some of the things I can do this week that indicate that I'm giving myself wholly and totally to God?
And you know what? You might even write down what you think it means to be transformed by the renewing of your mind. What situations will you handle differently, if you are not conformed to this world? And remember, please remember, it is your reasonable service to him who gave His all.
Shabbat shalom.
Listen to the last message
Son of David Congregation requests that you prayerfully consider to continue supporting us as you are able during this time. Click the Tzedakah box to be taken to our support page or you can send in a check to our office.
19100 Muncaster Rd,
Derwood, MD 20855, USA