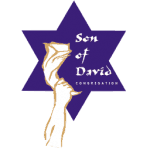 Scott Brown, Director of Celebrate Messiah in New Zealand, visits us from his ministry overseas to share with us the fruits of his labor. There was a Powerpoint presentation that went along with this message that is not included here (sorry!).
At 19 Minutes and 47 Seconds Scott switches gears to give the message about the God of Second chances. This was a powerful and encouraging message that will invigorate even the most desperate of souls.
Important Links:
Listen to the last message
Son of David Congregation requests that you prayerfully consider to continue supporting us as you are able during this time. Click the Tzedakah box to be taken to our support page or you can send in a check to our office.
19100 Muncaster Rd,
Derwood, MD 20855, USA