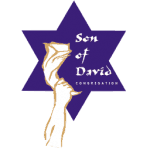 Dennis gives a brief history on Passover and Easter and how the two came to be separate holidays with different dates that move around. This sober look into the origins of Easter will give you pause to consider how sin can twist things over time.
This message is shorter than usual because of the Passover Seder that took place later that day.
Listen to the last message
Son of David Congregation requests that you prayerfully consider to continue supporting us as you are able during this time. Click the Tzedakah box to be taken to our support page or you can send in a check to our office.
19100 Muncaster Rd,
Derwood, MD 20855, USA